"Once you get a composition that you want to play, it is like a crossword puzzle – everything has to fit. Most of the teachers don't quite understand that. When you get a new composition you must dissect it from a musical point of view: "How am I going to do it?" And from a technical point, "Where will I be on the bow, or does this place need more vibrato?"
Roman Totenberg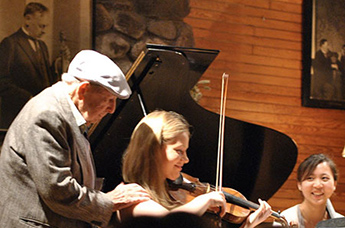 Teacher
An active teacher until his passing, Mr. Totenberg's influence can be heard everyday in orchestras across the globe.
"There's a reason all the students say, we love Mr. Totenberg," says acclaimed soloist Mira Wang, a former pupil. "It's the generosity, the extra time, the extra attention, never putting himself first. Without Mr. Totenberg, I wouldn't be what I am today."
Mr. Totenberg was a beloved teacher at these great schools.
There are legions of Roman's students all over the world. Here is a partial list.
Images of student lessons and performances over the years.