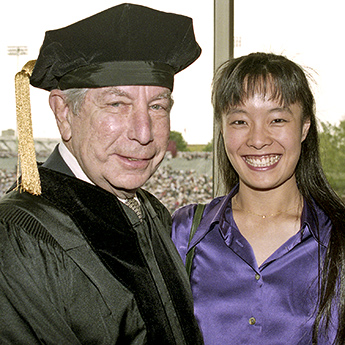 Roman Totenberg with Mira Wang, concert violinist and former student
Scholarship
The Roman and Melanie Totenberg String Scholarship Fund
The Roman and Melanie Totenberg String Scholarship Fund is intended to encourage the development of talent and musicianship, and is awarded annually to outstanding string musicians enrolled at the Boston University College of Fine Arts.
The Scholarship Fund was first established in 1990, launched with a lead gift from the S.H. and Helen R. Scheuer Family Foundation of New York City, in celebration of Professor Totenberg's 80th birthday. Since then, countless colleagues, students and friends have supported its growth, paying tribute not only to Roman Totenberg himself, but also to the advancement of young classical musicians.
If you would like to contribute to the Totenberg String Scholarship Fund,
click here to make a tax-deductible contribution through BU's secure online web site, or mail a check to the BU College of Fine Arts, 855 Commonwealth Avenue, Boston, MA, 02215, Attn: Office of Development and Alumni Relations, or call 617-353-5544.
Past Recipients of the Roman and Melanie Totenberg String Scholarship:
Lisa Park
Hanui Kim
Jin Hee Kim
Paul Kenneth Pinard
Yevgeny Kutik
Mayumi Hasegawa
Dagmara Ewa Mroz
Tao-Ming Yu
Aya Hasegawa-Sabouret
Pitor Buczek
Sung Yun Cho
Josue Wilson Chavez Pedrazas
Maciej Roger Kaczmarek
Joung-Hoon Song
Daniel Han
Joo-Mee Lee
Jodi Lynne Hagen
Hyun Ji Kim
Margaret Cerjan
Joo Hee Bae