Biography
Roman Totenberg – Biography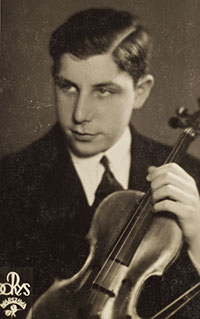 Mr. Totenberg was born in Poland on January 1, 1911 and was a child prodigy. He had an illustrious concert career, making his debut with the Warsaw Philharmonic at age 11 and going on to win the Wieniawski and Ysaye Medals of Poland and Belgium, the Mendelssohn Prize (Berlin Academy), BU's prestigious Metcalf Cup and Prize in 1996, and being named Artist Teacher of the Year in 1981 by the American String Teachers Association.
Mr. Totenberg was a constant and inspiring presence in classical music over the last century, having worked closely with composers including Samuel Barber, Igor Stravinsky, Aaron Copland, Paul Hindemith, and Darius Milhaud, and musicians and conductors including Fritz Kreisler, Artur Rubinstein, Leopold Stokowski, and Pierre Monteux.
Mr. Totenberg was featured on hundreds of recordings, has appeared with most of the renowned orchestras of the world, and has performed in recital at Carnegie Hall, the New York Metropolitan Museum of Art, the White House, the Library of Congress, and Queen Elizabeth Hall in London.
Mr. Totenberg's Legacy at Boston University
Boston University is proud that legendary violinist Roman Totenberg has been one of its most distinguished faculty members for more than fifty years. His extraordinary talent as a solo violinist has paralleled his passion for teaching and mentoring countless musicians throughout the decades and throughout the world.
To celebrate Professor Totenberg's 100th birthday and worldwide influence on classical music, the Boston University College of Fine Arts presented a concert in his honor in Boston's historic Symphony Hall on November 21, 2010. Mr. Totenberg attended the concert with family, friends, and former students, many of whom are today's leading concert artists, including Mira Wang, internationally acclaimed concert soloist; Na Sun, violinist with the New York Philharmonic; and Ikuko Mizuno, violinist with the Boston Symphony Orchestra. Proceeds from the concert benefited the Roman and Melanie Totenberg String Scholarship Fund for outstanding young musicians. View the tribute concert here.
Founded in 1839, Boston University is an internationally recognized private research university with more than 30,000 students participating in undergraduate, graduate, and professional programs. The Boston University College of Fine Arts was created in 1954 to bring together the School of Music, the School of Theatre, and the School of Visual Arts. The School of Music, founded in 1872, combines the intimacy and intensity of conservatory training with a broadly based, traditional liberal arts education at the undergraduate level and intense coursework at the graduate level. The school offers degrees in performance, composition and theory, musicology, music education, collaborative piano, historical performance, as well as a certificate program in its Opera Institute, and artist and performance diplomas.